There is nothing about this that makes sense.
Are you just complaining about add ons that they did from Gen 1? Because a couple of the things you listed in your 'Now When Training' were in Gen 1 (stat boosting moves, stab moves). And if you ARE complaining about them spicing up the game. Then you need to complain about the addition of Special Attack and Special Defense. Because in Gen 1, this concept didn't exist, there was only a single all encompassing 'Special' stat. Same goes for shinies, this idea was introduced in Gen 2. And no one can complain about shinies. But seeing what moves you taught your Charizard… you're not talking about Gen 1 or 2. So I digress.
By the looks of the moves you taught your Charizard.. by 'before' you mean Ruby and Sapphire, which is when Charizard could first learn Overheat (or Fire Red/Leaf Green when he first learned Heat Wave). And 'back then' every single one of the things you're complaining about was already in use (save the Dream World Ability and Stealth Rock, and even then there was field condition moves like Sunny Day), you just didn't know about the features yet.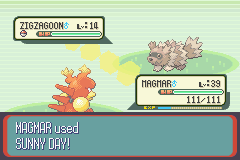 That's the whole point, and that's what makes Pokemon so great. You can still have fun without the competitive training, hell you don't even need to know about the complexity of the game to enjoy it. You can even be a complete and utter moron and teach your Pokemon all the same type moves and you can still have fun. But the option for a challenge is still there for those who want it.
And it's hidden so perfectly that you can, and probably will, miss most of what the game has to offer the first time you play it. Letting you soak in all that is Pokemon at a nice reasonable pace. Unlike some games where you are bombarded with a whole hoard of information at once, leaving you frustrated and confused, Pokemon eases you into it. It's this ease that allows it to be a kids game, while at the same time still hold the interest of adults. And it's just another reason to love the game.
Unless you're complaining about having to work to play competitively, but I'm sorry that's just how the world works. If you want to be a 'big shot', you need to get off your lazy ass and work for it. Or just play the game for what it is, a game.
…BTW you forgot IV breeding. And PokeRus. And Critical Hits.